At Cole Chiropractic Clinic, we deliver effective and holistic back pain relief. Dr. Christopher Cole examines your spine and back to uncover the source of your pain. When we identify the source, we are able to develop a healing plan to eliminate the cause of your back pain. In contrast to other healing processes that cover up the pain, Dr. Cole repairs the cause of your discomfort to provide pain relief and decrease the chances of your pain returning.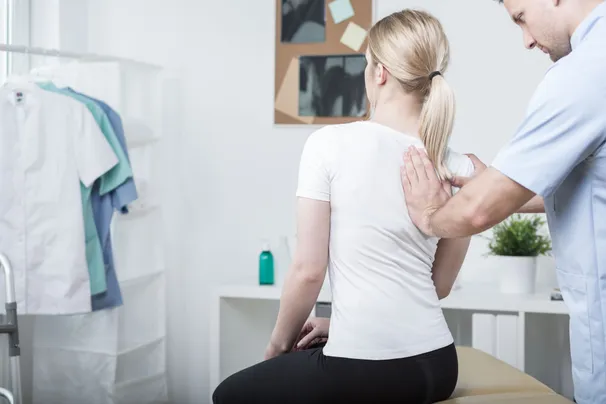 Chiropractic care is holistic, meaning that it works with your body in its entirety. As you receive chiropractic care, your overall health improves which protects your back against future mid-back pain. If you are suffering from middle back pain or shoulder pain, we encourage you to visit Cole Chiropractic Clinic where we can show you how chiropractic care and our personalized approaches will eliminate your discomfort and help you recover.
Back pain between your shoulder blades, across your middle back or in your shoulders can appear suddenly or gradually. If you have been involved in an auto accident, you may be experiencing symptoms associated with whiplash. Pain between your shoulder blades may be the result of a sports injury or work-related overuse. In addition, pain in this area may gradually worsen if you have poor posture, a spinal abnormality or from an improperly arranged work area. For example, if you are leaning forward throughout the day, the muscles between your shoulder blades may be overstretched and in need of strengthening.
Services Provided at Your Tulsa Chiropractor
As your Tulsa chiropractor, we use a variety of techniques to ease your discomfort. Some of the services we provide include:
Chiropractic adjustments - Dr. Cole evaluates the position of your spine to determine if any vertebrae are out of alignment. If so, the bones may be pressing on nerves and contributing to your pain. Gentle chiropractic adjustments, slide the vertebrae into a healthy alignment to reduce your pain and improve your range of motion.
Corrective exercises - if we determine your pain is the result of muscle weakness or imbalance, we show you exercises to restore strength and keep your flexibility.
Nutritional support - Linda Cole, our certified nutritionist, works with you to establish a healthy eating plan. This brings healing nutrients to the cells for a faster recovery.
Ultrasound - our ultrasound waves reach the deeper layer of muscle tissue to restore healing at the cellular level.
Intersegmental traction - if your back pain is appearing from a condition such as a herniated disc, traction provides relief.
Find Shoulder Pain or Back Pain Relief in Tulsa!
If you are looking for shoulder pain or back pain relief in Tulsa, our chiropractor gets to the source of your pain and eliminates it. Dr. Cole uses natural techniques that work with your body's healing abilities to eliminate your mid-back pain and pain between your shoulder blades. You do not have to live with this pain. Let us show you another way.
New patients receive a free consultation, so please call us today at (918) 664-2273 to schedule yours. We look forward to meeting with you!